Entregas los viernes en Rosarito o Miercoles Tijuana, San Diego previa cita.
No hago apartados a menos que depositen la mitad.
Puedo enviar las cosas a cualquier parte del Mexico.
Internacional preguntar por correo.
$50 pesos extras (SEPOMEX) o $180 Express (Mexpost)
Acepto pagos por Paypal u Oxxo.
Todas las ventas son finales.
++++++++++++++++++++++++++++++++++++++++++++++++++
I can do in person exchanges in San Diego, Tijuana or Rosarito.
I dont hold items, unless you pay a 20% deposit.
I can ship stuff anywhere in Mexico or the USA.
For International shipping please ask first as there are countries I cant ship to.
For Mexico I take Oxxo, Bank Transfer, Cash or Paypal. For International Paypal or Payoneer, you pay the fees.
Original


Dice talla L pero mas bien es una mediana :(
Solo me la probé, pero no me queda. Aun trae etiquetas.
Viene en bolsa de la pop up shop.
La compre en la line shop en Tokyo
pero es muy pequeña para todo lo que yo cargo
Nueva con etiqueta. Viene en su bolsa de Line Store.
New with tags. Got it at the Tokyo Line Shop.
Very pretty and soft but it is too small for all I carry
on a Daily Baisis.
Las compre por encargo de alguien en la expo Serendipity.
No me las pagaron :(
Got these for someone at the Serendipity Expo in LA, but the person never paid me :(
Photo cards Army Bomb Ver 3
Set $600 pesos
All for $35
Jin
Army Bomb Version 3
$1650 pesos / $65 USD
Usada una vez en el concierto.
Sin Caja
Used once at the concert.
No Box
Fan Goods

Camisetas / Tshirts
Traen el logo al frente y nombre en la parte de atras
Nam Joon Dorada $300 /$15 USD
Suga Aqua $ 300 /$15 USD
Ambas están nuevas. Solo me las probé. Mismo problema que la otra.
La talla viene reducida :/ y no me quedan. Serain como un M.
Size Me I am selling because they dont fit me :(
Pin &Sticker set
Pin, Banner y Live Photos
SPEAK YOURSELF Tour Rosebowl Banner Day 1
$200 pesos / $10 USD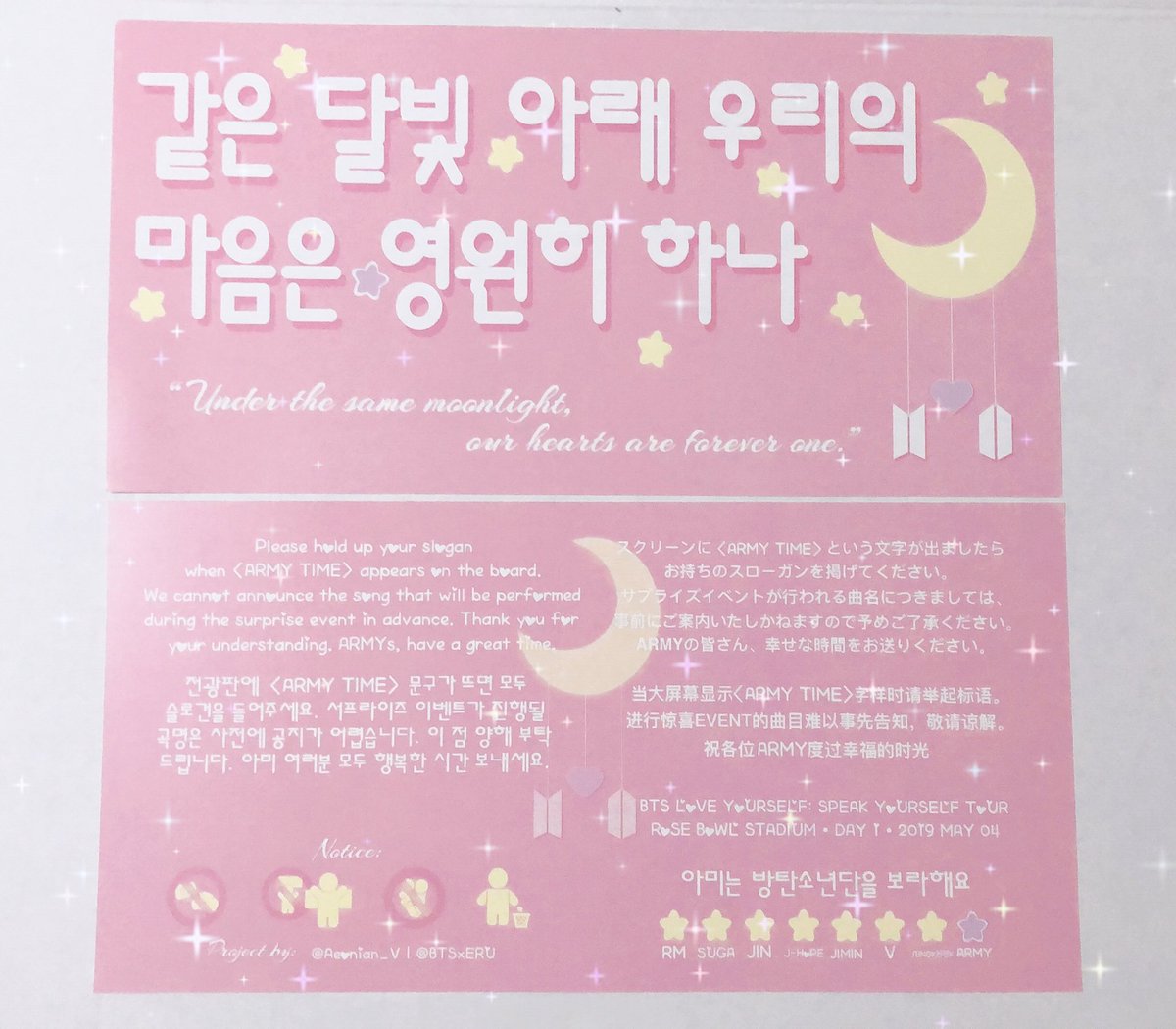 Disponibles 5
Available 5
*Todas las compras vienen con un banner del Concierto Speak Yourself *
*Siempre y cuando me queden disponibles*
*Solo tengo 5*