No flowers for spring
12:12
Ever since I saw Miranda's reaction to the Spring = Flowers theme I think I have been running away from flowers every spring...so I thought why not make flower-less wish list for spring? I bet Miranda would approve!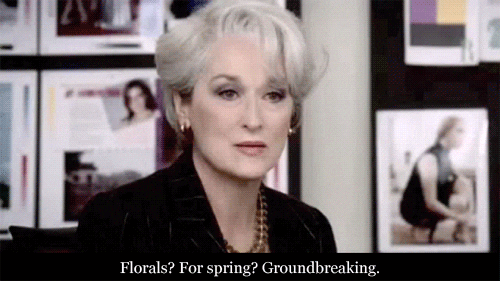 Outer wear
If you know me you probably know I love cozy and cute sweaters and pullovers. At least for Spring mornings and nights are still very chilly where I live so sweaters are a must! I really liked the color and embroidery on this one. Super girly!
Everyday wear
My favorite piece of clothing is and will always be a cute dress. I love how you can dress up or tone down your look if you choose a good dress and match it accordingly with accessories to change the overall feel of your outfit. Dresses are just so versatile and comfy I find mself wearing them pretty much all the time.
Foot wear
Marylin Monroe used to say a girl with the right shoes could conquer the world and for me the best choice is a boot! As much as I love stilletos and flats I just think that boots are overall more comfy, safer and way sturdier than regular pumps.
I have never felt super attached to accessories, in fact I only own 3 pair of earrings LOL but I do like how the manage to elevate any look depending on what type of accessories you go for. Again for me it is about looking well put together but on an efortless level because I will ALWAYS choose comfor over being a fashion statement. Berets, stud earrings and scarves will never go out of style!
There is also this myth or "rule" that fashion is supposed to be all about pastels or bright colors and that is really cool but since I am a person that likes to wear my clothes year round I really have an issue with this statement. My go to for each and every season is neutrals. That's what I tried to showcase with this post. You can get light wear clothes for the hot seasons,and make them warmer by throwing something over like a coat or an undergarment; and still use them perfectly in the cold season. It saves space, money and if you play your cards right you have a closet that is all matchy-match so you dont really have to take a lot of time thinking about what looks good paired with what.
Do you wear your clothes year round?
Do you think no florals for spring is borning?
Let me know in the comments.
Disclaimer: this post has been sponsored by Zaful.